District uses robot to connect curriculum to student
Jan 03, 2013
We constantly stress the value of data informed instruction, online testing, and curriculum management software but this blog is about a real problem and how technology was used to help.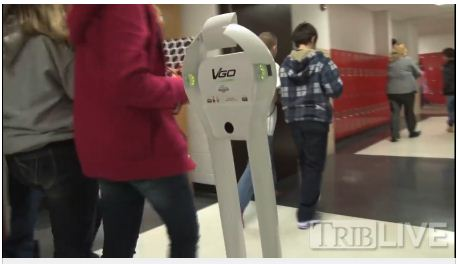 Mohawk school district has a fascinating and heartwarming technology project in progress. Cris Colaluca a Mohawk seventh grader has spina bifida and cannot attend school. He used to go but there are now serious complications with his illness that prevent his attendance. For the last few years he has been tutored by teachers in his home. He misses the social interaction a school provides.
Cris on his way to class guiding VGo
Theresa McConnell is the Director of Technology at Mohawk. Ever attentive and quick to see the potential in a new technology to solve a real problem Theresa stepped up. She saw the VGo robot on the news and immediately knew this technology could help Cris.
Last year, Mohawk technology coordinator Theresa McConnell discovered a solution when she saw a news report on the VGo, made by the Boston-based company of the same name. "I knew that was exactly what we needed," she said.

Cris can control the VGo — which has a camera, microphone and video display — anywhere in the school via Wi-Fi coverage. Using a computer mouse to navigate the robot, Cris can look all around and zoom in and out. VGo is battery-powered and can run up to a full day between charges. It's stored at the school and charges on a docking station overnight.

The VGo cost the district $5,995 plus a $1,195 annual service contract. That's money well spent, educators say.
For a little over $7,000 Cris can attend school in a cross between a virtual/real environment. Most of these solutions use a web cam type teleconferencing solution. With VGo Cris is immersed academically and socially in his school day.
He controls the VGo robot from home. Using the robot Cris travels from class to class. I am not sure who gets the late slips. Using the teleconferencing technology he can communicate with his teachers and fellow students. It is about as close to real as possible while not physically in the building. I can only imagine the impact this technology has made to Cris's life thanks to an alert technology geek named Theresa McConnell.
Read the entire story at triblive.
http://triblive.com/x/pittsburghtrib/news/regional/s_779061.html#ixzz2GwTkpn7U
Watch the video at: