How to Build Your Own Assessment: Focus on PA Keystone Exams
Oct 29, 2012
The Quality Classroom Consortium, also known as the QCC (or QC2), is a diverse group of school districts across the state that meets regularly to discuss data needs, new instructional strategies and differentiated approaches for their students. Over 100 educators attended this month's meeting at the Allegheny Intermediate Unit in Homestead. The morning was jam packed with thought-provoking discussion centered on the issue of creating common assessments in preparation for the Keystone Exams. Speakers for the day included Norton Gusky of NLG Consulting, Dr. Stefan Biancaniello of OnHand Schools, Dr. Todd Keruskin of Elizabeth Forward School District, and Bill McClarnon and Rhea Sarsfield of Penn Hills School District.
Here is a brief overview of key takeaways from the morning. You may download full presentations and additional info at qcc.wikispaces.com. We'd love to hear your feedback in the comments section below.
Common Assessments and the OnHand Schools Team
Skilled in both statistics and psychology, a psychometrician is someone who helps us think through the challenges of addressing all forms of diversity in our children while building reliable assessments. OnHand Schools (OHS) started working in Common Assessments with the Hillsborough County School District as part of a Race To The Top grant focusing on hard to measure assessment areas. The key finding of this work was that even experienced teachers required extensive training before they could write quality assessment questions at the appropriate levels of complexity.
Quality assessments are assessments created collaboratively by teams of teachers in the same subject area across all sections, and at a greater level of rigor than standard classroom developed assessments. Using Webb's Depth of Knowledge, the OHS Team helps teachers recognize four levels of assessment complexity:
Level 1 - Recall
Level 2 - Basic Application
Level 3 - Strategic Thinking (Reasoning, sequence of steps, more than one possible answer)
Level 4 - Extended Thinking (Investigation, thinking and processing multiple conditions)
Using the DOK and the EdInsight Assessment Builder Tool, OHS trains educators in how to construct quality questions, in both Multiple Choice and Constructed Response formats.
Dr. Stefan Biancaniello shared why districts should be active in a collaborative process of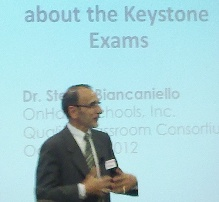 creating their own assessments: "Sure, you couldsimply buy assessment questions, but will they be speaking to your children? Their cultural and socio-economic background? This is not a 'get 'er done' kind of endeavor. A deep and thoughtful process is required. And it's not only worth the effort; it is critical to our profession. We need to take back the reins of how we progress our children forward, giving our teachers time to think through and reflect on the content they are teaching. Education is a human endeavor, and this is the beauty of our profession."
Keystone Exams and The EdInsight Assessment Builder Tool
School districts in Western PA are taking their testing data to higher level. In the example of Elizabeth Forward School District, all benchmark tests were uploaded to the EdInsight Assessment Builder Tool, and educators were able to see immediate results as students took the tests on laptops and iPads. The key was not just getting the data, but also analyzing it and using the results to go back and make improvements. Keystone Biology (70 teachers) and Algebra I (27 teachers) local consortiums have been powerful, teacher-driven initiatives where participants work together to create questions and answers, give feedback, and make corrections. There is agreement that assessment building is a tough process, no matter how well resourced is your school district. Dr. Todd Keruskin: "What I like about the [EdInsight Assessment Builder] tool is that every item is linked to my livecurriculum. Creating assessments this way changes the culture of our work, from static to dynamic. You're not going to [make progress] unless both data and curriculum are linked together in one place. It's also important to think about the future ahead of time: how you will map out your own assessments and the corresponding student improvements."
The leadership of Penn Hills School District took the additional step of assigning Curriculum Manager Rhea Sarsfield to work directly with teachers, focusing them in on creating great assessments. "We must get our teachers ready for increasing the rigor," said Bill McClarnon of Penn Hills SD. "We can no longer rely on pre-fab worksheet tests out of New Jersey. Teachers have to be invested in developing their own questions and assessments." With help from the OnHand Schools team, PHSD implemented a 10-step process for creating excellent, teacher-driven assessments that prepare its students for upcoming Keystone Exams (find a detailed outline of those steps at qcc.wikispaces.com).
How to Afford Quality Professional Development
A consortium of six school districts near Elizabeth Forward has been critical to splitting costs and providing high quality professional development opportunities to all teachers. "I cannot stress enough the power of these consortiums. Teachers really appreciated the opportunity." (Keruskin)
"What I love about working with [OHS] is that they have a corps of professionals who can come out and provide focused, effective professional development. They house "The Stable," if you will, within the OHS team, and you can find whatever you need to bring out to your school district." (McClarnon)
Go to qcc.wikispaces.com for full presentation outlines.